Event and League Registration and Round Signup Instructions
Since we have changed our sign up process for some Gauntlet events and leagues, we wanted to take a moment to go over the process of round sign ups.
It is important to note that most leagues like the His & Hers and the Thursday Night Happy Hour Scramble have a one time registration to initially get you into the "league". Then, when the next round is open for sign up, the process below would be followed. This is because you have the option of playing or not every week.
Other events like Turkey Shoot are only one day events and only require you to register/sign up once.
E-mail addresses are important in order to link all your leagues/events together. You will be able to have one login to manage all your registrations and rounds in case you need to change them in the future, such as a playing partner or cancellation. This will also give you access to league and event portals as well as a universal way to get into live scoring for all your events.
The same goes for the other players you sign up. This will make it easier for them to access all the same features Golf Genius has to offer. During your registration process you have the option of adding your mobile number to receive important event alerts. We apologize for any confusion and if you need help please do not be afraid to call. 
Click this link to register for events
Registration-
Access the event or league portal via Directory or by direct URL link.
Click "New Registration" (as shown below). Note: If you've already registered and you need to make changes to your registration (eg partner change, cancel registration, etc), click on "Edit Registration. To see the list of players who have signed up already, click on "List of Participants".


(This step is only needed if registering for a member event with a club that does not use SSO) Verify yourself by selecting your name in the dropdown and answering the required field (as shown below). Click "Save". 


Complete the registration form by entering the required information for all registrants (as shown below).


Click "Register".
Round Signup-
Once signups are open for a round, players can sign up via email invitations or via portal. When viewing the invitation email, the player can respond by clicking "Playing" or "Not Playing" (as shown below). As long as signups are open, a player can always go back to the email invitation and change their response.
Players can also sign up through the portal by going to the Splash Page (home page) of the portal. The open rounds will be listed on the left (as shown below).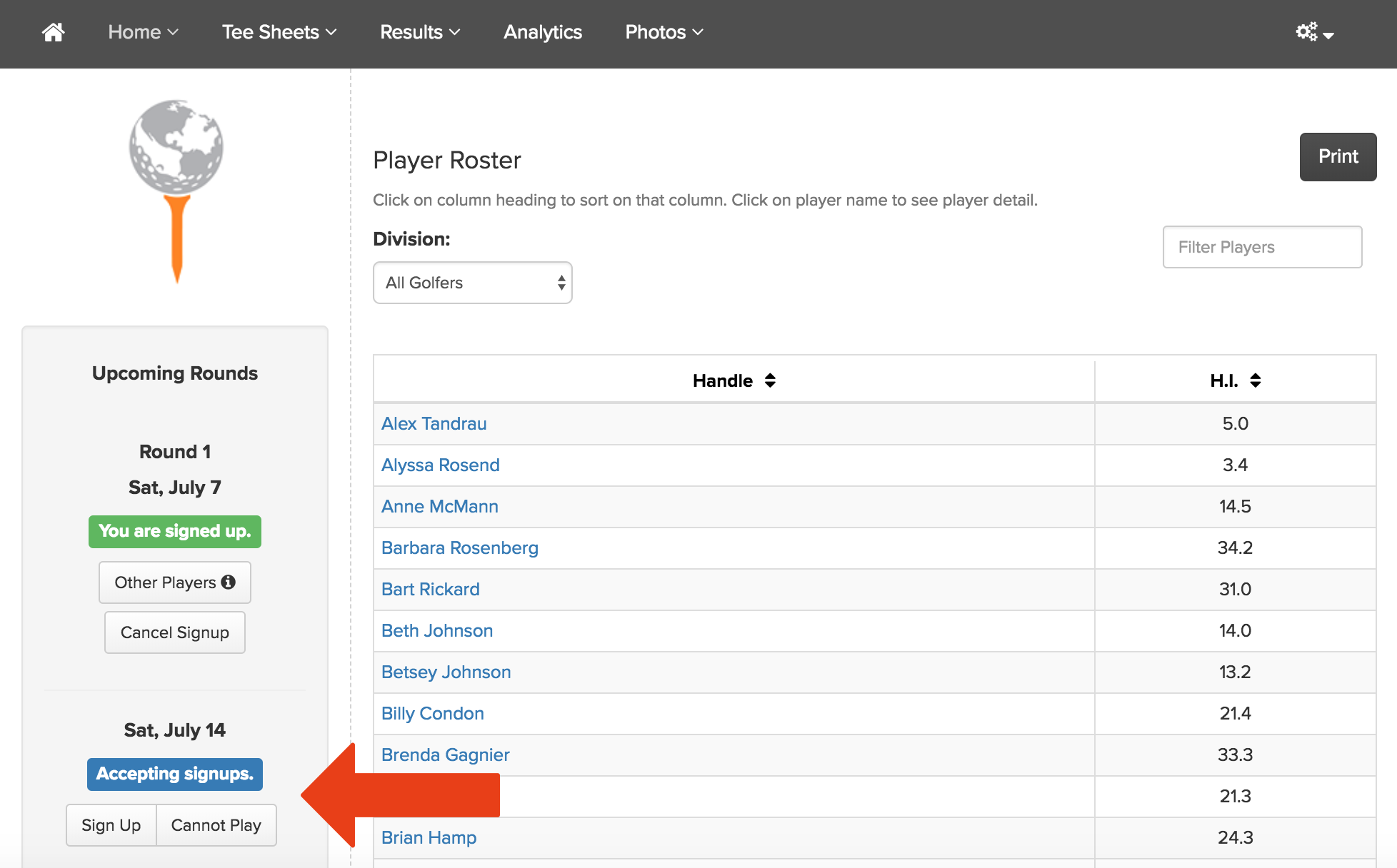 After responding to the invitation (either through the portal or email invitation), players will receive a confirmation message that they are now playing in the round (as shown below). If a participation limit (if set up) has been exceeded, the player will receive a notification that they have been waitlisted.
In addition to the confirmation message, players will also receive confirmation emails when they sign up or cancel for a round (as shown below).