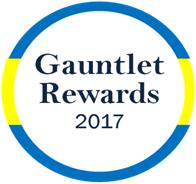 For every $1 spent on eligible purchases at the Gauntlet,
earn 1 point towards Gauntlet Rewards.
Pitcher of Domestic Beer 75 pts)
Daily Special (100 pts)
Member Cart Fee (150 pts)
Weekday Round of Golf (300 pts)
1 dozen Velocity golf balls (300 pts)
1 pair of Footjoy Comfort golf shoes (1200 pts)
Points are good for up to 60 days from the day they are earned. Your date of purchase is day 1.
Check your point total on your Gauntlet receipt.